Getting dressed during the colder months is tricky – you cant just throw on a cute dress and call it a day, you actually have to consider your look, and of course, how to stay warm at the same time. So it's important to know how to layer in a smart way. Smart layering will keep you warm without adding bulk to your waistline and frame.
Want to learn how to layer like a pro? Luckily, our fashion editor, Xolani Gumede, has put together her top 10 tips. Plus, all Xolani's tips are practical advice that will work with new winter buys or simple items you already have in your closet.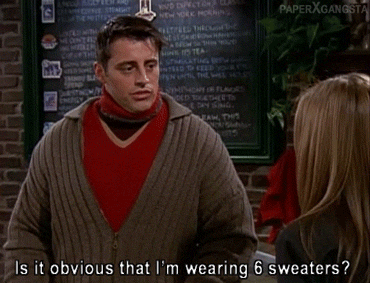 No matter what weight, size or body shape you are, no-one wants to look bigger than their actual size, which is why some women shy away from layering. But, we all know that one woman who manages to look cosy and chic without losing her shape because she's mastered the art of smart layering.
Layer from thinnest to thickest
The first rule about layering: always start with the thinnest item and build up from there. This ensures that your foundation is as slim-fit as possible, before adding more fabric to your look.
Choose slimmer fits
Which brings us to the thickness of winter clothes… It's always better to layer thinner items, rather than trying to make a chunky knit fit under an oversized corduroy blazer. Try layering a fine knit jersey, under a slim-line, fitted denim jacket, under a light cardigan.
Wear your summer clothes
A great way to layer lightly is to wear your summer dresses, blouses, and mini skirts in winter. Wear a sheer blouse over a light long-sleeved top, pair it with a faux fur gilet, and you've got yourself a warm stylish outfit.
Read more: How to wear your summer clothes in winter 
How to layer with style
Keep your outfit stylish and sleek with modern, tailored outerwear. You could really get away with wearing almost anything under a fitted trench coat. A great tip to keep in mind is to wear layers that look good on their own too. This way, you can add and remove layers as the day becomes warmer or cooler, and still look good.
It's a balancing act
Figuring out how to balance your body shape while adding layers is key. Pear shapes will do well with skinny jeans and extra layers on the upper body (think: tops, knits and outerwear). Layering like this should create an hourglass silhouette.
For apple shapes, wearing a pair of tights (or three) under wide leg pants, while keeping the layering on the top half of your body minimal, is the best way to avoid looking bulky.
Choose one colour range
Wearing one colour in different shades will automatically elongate your frame while tricking the eye into believing you're not wearing multiple layers.
Go sleeveless
When considering how to layer your clothing in winter, choosing sleeveless jackets are a great idea! It's a win because you can wear as many tops under it as you'd like. Just keep your proportions in mind. Unless you have a smaller upper body (in which case you can wear sleeveless puffer jackets), rather opt for long-line sleek gilet coats.
Be conscious of proportions
Maintaining your body's natural proportions is just as important as keeping the balance. You should never layer so much that your waist, shape of your legs, or bust is hidden.
Read more: 8 jersey styles every woman should have 
When in doubt, add a belt
Whether you're layering a poncho or a simple jacket, if you're feeling unsure, add a belt over it. A belt will immediately cinch in your waist, giving you an hourglass, slender appearance. Be sure to position the belt at your smallest point for the desired effect.
For the curvy ladies
Read more: Our top 10 places to shop for plus size clothing 
When it comes to layering for our beautiful curvy ladies, it becomes even more important to know how to layer without adding too much bulk. Of course, the above tips will work for you too, but these three curvy girl tips are especially great for you.
1. Limit layers to a maximum of three, anything more than that and you'll risk adding extra centimetres to your body.
2. Build structure. Go for fabrics and clothing that is already structured. Instead of a slouchy top, rather layer with a structured winter blouse. Instead of baggy slacks, rather wear structured pants.
3. Aim to elongate. Creating the illusion of looking taller will stretch your silhouette. So throw on your heels and a long-line cardigan, and you're good to go.