This just in! Good news has arrived for the fans of J.K. Rowling's wizarding world! If you're the staple member of any winning team at your local bar's trivia night, this is just for you. And if you're a frustrated mom who'll do just about anything to keep your little ones entertained during the lockdown, be sure to read on.
J.K. Rowling has just launched "Harry Potter At Home". And yes, it really is as cool as it sounds…
The ever-loved author has teamed up with Audible, Bloomsbury, OverDrive, Pottermore Publishing and Scholastic to deliver an offering that is sure to add some magic to your life.
Cast a charm against lockdown boredom
The wonderful world of Harry Potter has left fans entranced for almost two decades now. Recognising that we're currently navigating turbulent times in the wake of Covid-19, Rowling has decided to make access to this wizarding landscape just that much easier.
Parents, teachers and carers working to keep children amused and interested while we're on lockdown might need a bit of magic, so I'm delighted to launch https://t.co/cPg0dZpexB pic.twitter.com/i0ZjTplVoU

— J.K. Rowling (@jk_rowling) April 1, 2020
"But how?" you may ask. Well, firstly, you can listen to Harry Potter and the Philosopher's Stone as many times as you'd like in the coming weeks. Audible is offering unlimited access to the first Harry Potter book – and in six languages, no less.
Secondly, a humungous hub of activities has been curated at WizardingWorld.com for Harry Potter At Home. Here you'll find activity kits, craft videos, charming articles, puzzles, quizzes, and more. You'll be sure to be kept occupied for ages. And the best thing is, just like Hogwarts' staircases, this page will keep changing all the time.
Try the sorting hat on
Die-hard Harry Potter fans will undoubtedly already know which Hogwarts house they belong to… But if you're looking to keep the kids entertained, let Harry Potter At Home do the sorting for you. It's sure to spark serious conversation – especially if they've seen the movies. (And if they haven't, well, what are you waiting for?).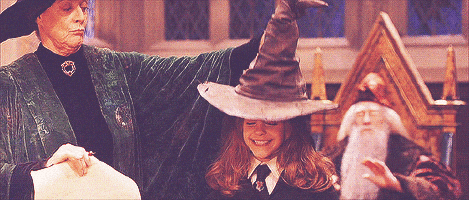 You can also complete loads of really cool quizzes. Some of these include "The First Year Harry Potter Quiz" and "The First Year Quiddich Quiz". So if you're looking to stretch your Harry Potter muscles in the absence of trivia night, why not make one at home? Spark competition and make it a whole family games night – we've got nothing but time on our hands.