If you've been on social media over the last few days, you'll know about this whipped treat. And if you don't know about it, well, do we have news for you! This internet craze started in Korea with a video from the YouTuber Ddulgi. In the video, she uses a hand mixer to blend the coffee, making it an ASMR experience of note. Here we'll tell you how you can make Dalgona coffee from the comfort of your couch.
Lockdown cabin fever is setting in, and everyone's getting just a tiny bit sick of being cooped up with their family. So rescue yourself with this fun (and tasty!) distraction. All you'll need is instant coffee, water, and sugar.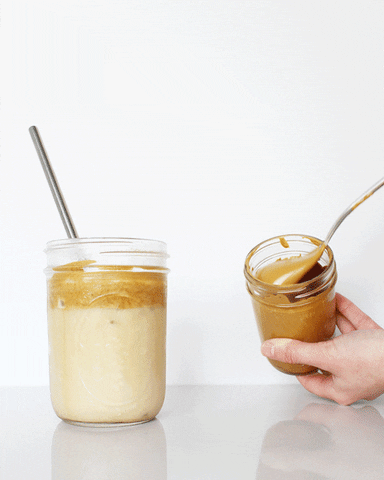 To mix, you can either use a teaspoon or a hand mixer. It can take up to an hour and a half (if you use a spoon), so it's up to you to set the pace for your java escape. And if you're looking for a workout, opt for the spoon route – trust me.
That being said, the spoon route lets you mix away as you enjoy your series bingeing or movie marathon uninterrupted. If anything, this is recommended because the process can become a bit frustrating if you're doing it propped up in the kitchen. Pyjamas: on; Netflix: streaming; coffee: mixing.
So what's the big deal? 
Why exactly has Dalgona coffee become so popular? Well, it might have something to do with almost everyone in the world being stuck at home. The Covid-19 pandemic has given people the chance to get pretty creative these last few weeks.
It's also got to do with maintaining a semblance of normalcy. We can't pop out for a cappuccino anymore, and everyone knows that the ones you can make from sachets just don't go down the same. The Dalgona coffee foam is thick and creamy, which is super reminiscent of a really strong, expensive coffee.
Another reason it's gone viral is that it's really pretty to look at, it takes some time to accomplish, and it's cost-effective. Sugar, water and instant coffee isn't too much to ask in order for you to achieve something this luxe. I mean, just look at it:
Okay, but really, check this out:
And one more for luck:
Dalgona coffee step-by-step
What you'll need:
instant coffee, 2 tablespoons
sugar, 2 tablespoons (or more, to taste)
hot water, 2 tablespoons
1 cup of cold milk
A handful of ice cubes
Small mixing bowl
A teaspoon or hand mixer
Glass, for serving
Here's how to make the perfect iced coffee, Dalgona style:
Combine the coffee, hot water, and sugar in your small mixing bowl.
Stir this mixture with your tool of choice (teaspoon or mixer). Mix until light and foamy. Hot tip: if you're not keen to spend over an hour mixing, I suggest you use the hand mixer.
When your coffee mixture is whipped to perfection, set aside.
Fill your serving glass with ice cubes and a cup of milk. Hot tip: despite the amount of sugar you use, this coffee tends to be really bitter. So consider sweetening your milk with some sugar before serving.
Top the icy milk with your coffee foam.
Snap a picture for your Instagram while it's still picture perfect (because #treatyourself), gently mix the coffee through the milk and enjoy.
You can also watch this video if you need a little extra help: