Is the number on the scale refusing to budge despite your best efforts? You might be falling victim to the weekend weight-gain trap. The weekend weight-gain trap is when you spend Monday to Friday counting kilojoules and hitting the gym, but go off the rails on Saturday and Sunday. It's a trap most of us fall into…
Read more: Stay on track during the week by signing up to our 5 days to fab challenge
Here are 10 ways to stay on track and still have fun over the weekend…
1. Be realistic
Your goal for the weekend is to keep your weight stable (actually losing weight is for Monday to Friday). With this approach, you can still achieve a steady loss of half a kilo or so a week.
2. Catch up on sleep
There's a strong correlation between sleep deprivation and weight gain, so use the weekend to make sure you get enough sleep (yes, we really are giving you an excuse to have a lazy lie-in!). The more rested you are, the better you'll be at fending off cravings, and the more likely you are to stay active. And while you're asleep, you won't be eating!
Read more: Your sleep problems solved
3. Be prepared
Take 15 minutes out of your Friday to cut up fresh fruit and veg for your fridge. So when you get a snack attack, there is something healthy at hand. You can also plan your weekend meals and do the shopping during the week. If you already have the ingredients in the house, you are less likely to order a takeaway.
4. Get active
Doing some exercise rather than lazing around can make all the difference when it comes to avoiding weekend weight gain. So go for a brisk walk or cycle rather than slumping in front of the TV.
5. Don't go hungry
Saving up kilojoules for a dinner out ­usually backfires – you end up eating more because you're hungrier and all restraint goes out of the window. This is also the kind of 'all-or-nothing' approach that leads to binge-eating. Instead, rather opt for a light lunch like a chicken salad or a soup a few hours before you go out. Apply the same principles to grocery shopping: walking into a supermarket hungry is a recipe for diet sabotage.
6. Weigh in on a Friday morning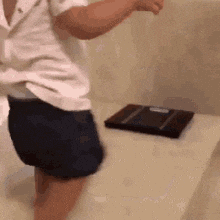 The weekend is not an extended 'cheat day' and weekend kilojoules do count. European research has found that we're likely to be lightest on a Friday morning, after a week of being careful with our diet. By weighing yourself then, when the number on the scale is likely to be the most encouraging, you're more likely to be motivated to be sensible with your eating over the weekend.
7. Choose brunch
Eating a late-morning meal can be waistline-friendly as long as it replaces breakfast and lunch. Ditch croissants, which, in a study, came last out of 38 foods for their ability to fill you up. Tuck into eggs and lean bacon instead, which can help to keep your hunger at bay for hours.
8. Slow down
Make the most of a more leisurely schedule by slowing down and chewing more. US research found that increased chewing corresponded to lowered kilojoule intake because people gave up eating sooner. And increasing the number of chews per mouthful by 50% (that means 18 times instead of 12) reduced overall food consumption by 10% per meal.
Read more: 8 ways to breathe yourself healthy (and how to do it)
9. Make Friday steak night
A couple of lean steaks will cost you no more than a takeaway, but are more nutritious, filling and lower in kilojoules (when served with veg and chunky skin-on oven chips). You can save around 1 600 kilojoules with this option instead of a curry, rice and naan bread.
10. Switch up your weekend plans
Plan social outings that don't involve boozing or food as a central feature – like a theatre visit or a game of mini-golf.