We've all seemed to have caught the cleaning bug, and this is with good reason! The number of Covid-19 cases are steadily increasing everyday and sure, we're washing our hands and cleaning every surface we can think of. But have we spared a thought for our trusty reusable water bottle?
A reusable water bottle is a great asset for living a healthy lifestyle. You are able to make sure that you stay hydrated, and another bonus is that you are saving some money by not buying a bottle of water every time you need a drink.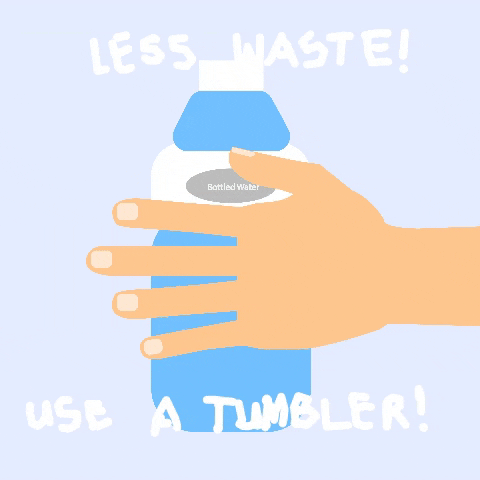 For those who already own a reusable water bottle, it's super important that you take proper care of it.
What does this mean?
Taking care of your reusable water bottle means cleaning and disinfecting it daily. Here's all you need to know about taking effective care of your water bottle.
Why do we need to clean our water bottles?
Most of us don't really think of water as something that is 'dirty'. But here's something for you to imagine- every time you take a big gulp of water during your workout or on a hot day – any germs that might have been hanging out in the water or on the inside of the bottle, becomes what you ingest. Gross right?
Germs and bacteria love dark and damp conditions, so this makes your water bottle the optimal place for them to grow.
Microbiologist Miryam Z. Wahrman says "contaminated water bottles can transmit pretty much anything you can catch from casual contact with another person". This is important information to have in light of the current worldwide situation.
How often should you wash your water bottle?
The short answer? Everyday.
It doesn't have to be a task that causes frustration. A good way to remember to do it is to make it apart of your night-time routine. Perhaps when you're making your lunch for the next day, or when you're making a cup of tea to take to bed.
Also, make sure that it gets a thorough clean before and after you allow someone else to use it.
Here are four easy ways to get that water bottle squeaky-clean:
Choose one of these options based on the kind of water bottle you have or how thoroughly you would like it to be cleaned.
1. Use your dishwasher
Probably the easiest option with the least fuss. Make sure to check the bottom of your bottle, whether it can withstand dishwasher cleaning. If it can, you should put it on the top rack so that it doesn't get in the way of the spinning arms.
2. Trusty soap and hot water
Some water bottles have narrower bits that are harder to reach. These parts probably won't get cleaned in a dishwasher anyway. Your best bet then is to soak the bottle and its lid in hot soapy water.
You could also put some liquid soap in the bottle and fill it up halfway with warm water and give it a good scrub with a bottle brush. We love this set from Yuppiechef:
3. Disinfect with vinegar
White vinegar is a great natural cleaning product. Its acidic nature makes it a great disinfectant too.
If you'd like to give your water bottle a real deep clean try this:
wash it out with soap and water,
then fill it up with a 1:1 mixture of white vinegar and water
Shake it up and let the solution sit overnight. Rinse your bottle in the morning and you will have a super clean water bottle
4. Use a weak bleach solution
If the thought of germs really make you feel anxious, none of them will stand a chance against a little bleach. It's perfectly safe to drink from a bottle that's been cleaned with a weak bleach solution — it can even be used to sanitise baby toys and bottles. Make a bleach solution using one tablespoon of bleach per one litre water. Fill your bottle, screw on the top, and allow to sit for two minutes. Pour out the solution and allow it to dry out completely. And give it another good rinse for good measure.