Saving for that big international holiday can be a hard slog and visas to your dream destination can cause a lot of tears and hair pulling. To help you save time and money, we've compiled a list of some visa-free destinations South Africans can visit, so that you can start snapping and posting all those envy-inducing holiday selfies. Do you have your suitcase ready?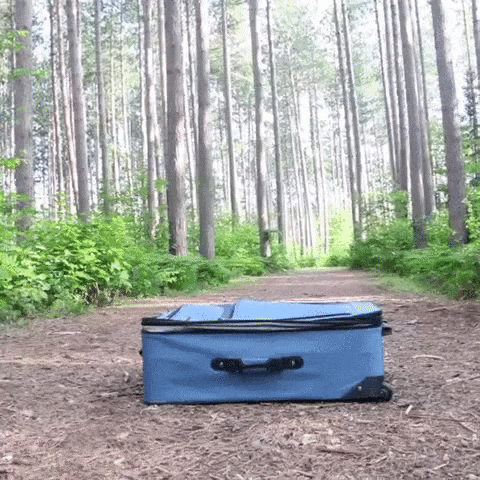 Africa's visa-free destinations for South Africans
Botswana
Home to the Chobe River and the breathtaking Okavango Delta, Botswana is a must for any traveller and for South Africans it's a hop, skip and a jump away. The Okavango Delta is Botswana's pride and joy (well, one of many), and was even earmarked as a World Heritage site in 2014. Both the Delta and Chobe River are teeming with wildlife, so we recommend that all bush lovers book a trip today.
Namibia
Namibia's barren desert landscape will leave you in awe. Climb the towering dunes just outside Swakopmund or spot some seals and dolphins from the comfort of your catamaran as you cruise the Walvis Bay Harbour. Budding photographers will find an array of eye catching subject matter to snap including the dead-tree valley of Sossusvlei, Fish River Canyon and the elephants of Etosha National Park.
Other African countries you can visit visa free: Angola, Kenya, Lesotho, Malawi, Mauritius, Mozambique,  Senegal, Swaziland, Tanzania, Tunisia, Zambia and Zimbabwe.
Read more: How to pack your suitcase efficiently
Asia's visa-free destinations for South Africans
Philippines
This archipelago is teeming with exciting activities to keep the most adventurous of travellers entertained. Once you've landed in Manila, the country's capital, hop on a domestic flight or ferry and head to one of its many picturesque islands. Boracay's shoreline will make any beach bum happy, while North Luzon is home to the rice terraces of Banaue and Batad – it's a real treat for hikers. If you're a keen diver, the Philippines is not short on great diving spots.
South Korea
Home to the likes of famous K-Pop stars like Psy (remember Gangnam Style?), karaoke and kimchi, South Korea has loads to offer a worldly traveller. The capital city, Seoul, is a hub of non-stop activity. Be sure to stop in at one of the many lamb barbecue restaurants in Gangnam for a culinary treat before you partake in the country's national pastime: karaoke.
If cities aren't your thing then head south to Korea's largest island, Jeju. Inspired by the Camino in Spain, this volcanic island has a self-guided walking tour called the Jeju Olle Trail. It covers the circumference of the island and will take you through the city on the north-side of the island as well as past all the inviting beaches of the south.
If you're visiting in March or April, you can catch the cherry blossoms, while the amazing autumn colours make their appearance in October.
Other Asian countries you can visit visa free: Fiji, Hong Kong, Indonesia, Malaysia, Macau, Singapore, and Thailand.
Read more: This printable travel checklist will make packing a breeze
Europe's visa-free destinations for South Africans
Ireland
Calling all Game of Thrones fans! Much of Northern Ireland was featured as the backdrop for the hit TV show including Tollymore Forest Park, Castle Ward and the Dark Hedges. Book a tour and relive some epic moments from the TV series. Otherwise, if you're just looking for a place with scenic rolling green hills, Guinness beer on tap (when in Ireland, right?) and medieval castles to visit, be sure to book a flight to this North Atlantic island.
Other European countries you can visit visa free: You can also stop in Georgia, Kosovo and Russia.
Central America's visa-free destinations for South Africans
Belize
Head to Belize where the Central American jungle meets a Caribbean beach escape. There are loads of activities to keep any outdoor enthusiast busy. Enjoy bird watching? Book yourself a canopy tour and visit the toucans in their own habitat. Looking for a real thrill? Take a tour of the largest cave system in Central America. If the beach is more your speed then you won't be disappointed. Ambergris Caye has powder white shores that meet a clear blue ocean.
Other Central American countries you can visit visa free: South Africans can also travel to Costa Rica, El Salvador, Guatemala, Honduras, Nicaragua and Panama.
Plus, here are the Caribbean countries you can visit visa free: Antigua and Barbuda, The Bahamas, Barbados, British Virgin Islands, Dominica, Grenada, Jamaica, Saint Kitts and Nevis, Saint Lucia, Saint Vincent and the Grenadines, Trinidad and Tobago.
The Middle East's visa-free destinations for South Africans
Israel
Israel is home to the world-renowned Dead Sea where you can spend the day lazing on Ein Bokek Beach, strolling Masada's Snake Path or taking a wander through Ein Gedi Nature Reserve. Be sure to stop in at the expertly manicured Baha'i Gardens in Haifa or unearth some of Masada's archaeological history by visiting the Masada Museum.
Other Middle Eastern countries you can visit visa free: Qatar and the Palestinian territories are also on the list of Middle Eastern countries South Africans visit without a visa.
Read more:15 of the best travel apps to take your holiday to the next level
South America's visa-free destinations for South Africans
Argentina
Buenos Aires is the capital of Argentina and it's noticeable from the moment you arrive. It's a bustling city that never stops. You'll come across loads of sidewalk restaurants serving up a host of tantalising treats including barbecued meats, baked pies and ice-cream. Set a day aside to see the world's largest waterfall system by heading up north to the Brazilian border to see the roaring Iguazú Falls.
Paraguay
Looking to get off the beaten tourist track? Then Paraguay is just for you. The country has a wide range of natural attractions like the Laguna Blanca lake and the Paraná River which forms the border between Paraguay and Argentina. Don't miss a tour of the oldest station in South America with a visit to the Asunción Museo Ferroviario in the country's capital. It's a beautifully preserved piece of history that gives you a window into the world of travel during the 19th century.
Other South American countries you can visit visa free: Brazil, Chile, Ecuador, Falkland Islands, Guyana, Peru, Trinidad and Tobago, Uruguay, Vanuatu and Venezuela are also some of the other South American destinations you can visit without a visa.
Disclaimer: Visa regulations are subject to change, so be sure to check a country's visa requirements with the local embassy before booking your travel to any destination listed in this article.